Every day loving, healthy, highly adoptable dogs and cats are euthanized in America's municipal shelters because these overcrowded shelters are out of kennel space.
Too many pets and not enough space is always the excuse.  Wings of Rescue is working around the clock changing this mindset by providing desperately needed air transport for thousands of overlooked, at-risk pets from overcrowded, high intake shelters where bad things often happen to shelters with empty kennel space and where no local shelter pets are displaced by our flights.
Since our inception in 2012 we have flown over 62.000 at-risk shelter pets to safety and delivered over 750,000 pounds of humanitarian and veterinary aid to disaster victims. We have transported dogs, cats, rabbits, guinea pigs, pot-bellied pigs, miniature horses and birds. Ground transport can often take 24 hours or more, and have the pets in their crates without any food, water or walks. Most of our flights are completed within 3 to 4 hours.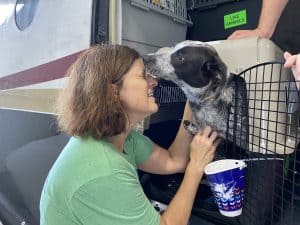 Our work is funded completely from donations.  We rely upon these donations and the fabulous safe-haven shelters across North America to save shelter pets' lives. With your help, the sky is truly the limit to how many we can save.  Please help us save endangered pets by donating thereby joining the Wings of Rescue Flight Support team at www.wingsofrescue.org/donate.