We Save Pets' Lives and Bring Great Joy to Pet Owners
Each day loving, healthy, highly adoptable dogs and cats are euthanized because overcrowded shelters have run out of kennel space. Throughout the western hemisphere, there is an imbalance between places where too many pets crowd local shelters, and where not enough pets are available to satisfy adoption demand. When you add in the impact from natural disasters (which place additional pressures on local animal rescue efforts), the need for large-scale air transport of at-risk pets is critical, so Wings of Rescue is there to perform its rescue missions. Partnering with local shelters and national animal-welfare organizations, we identify situations and circumstances throughout North America where pets are at high risk and shelter resources are overwhelmed. We then find shelter partners who can take these pets, give them the care they need, and find each one a new, loving home. Our procedures and policies assure that all the pets we rescue are healthy, in need of a new home and not simply lost waiting to be reunited with their owners, and that no pets at the receiving shelters are displaced by the new arrivals.
During and After Natural Disasters, We Are Wheels Down to Help
When events like hurricanes, earthquakes, flooding, freezing-cold weather, or any other natural disaster hit a community, it places great burdens on local pet-rescue operations, who immediately see an increase in pet populations needing care and housing. We provide relief for local shelters by transporting pets already available for adoption to alternate facilities, freeing much-needed space for the pets displaced by the emergency. This allows shelter personnel and volunteers more time and resources to care for and re-unite lost or displaced pets with their local owners.
We Don't Just Pick up Pets. We Deliver Supplies and Aid to All in Need
At Wings of Rescue, we adhere to a "never fly an empty plane if possible" philosophy, so we work very hard to make our flights helpful and life-saving both coming and going from the disaster zones into which we fly. On our way to pick up pets, we often deliver humanitarian and veterinarian aid in the form of food, medicine, shelter supplies, crates and other essential goods. Since our founding in 2012, we've successfully delivered over 375 tons of disaster relief to communities in need throughout North America, and responded to nearly every type of natural disaster.
Wherever We Land, Our Planes Also Deliver Education, Best Practices, Goodwill and Hope
It's not enough in our mind to simply rescue unwanted pets and deliver disaster relief. Along the way and to anyone who will listen, we are strong promoters of responsible pet ownership, effective spay-and-neuter programs and community investment in local shelter facilities and rescue operations. We provide funding and have developed programs for low- or no-cost spay-and-neuter procedures, and work closely with our partners on the ground to be sure every pet is well-cared for and that the message of responsible pet ownership is getting through to the communities where it is needed most. And we carry with us an optimistic and hopeful approach to the challenges of animal rescue, along with smiling faces, encouragement and deep appreciation for the hard work being done in the field.
Some of Our Happy Success Stories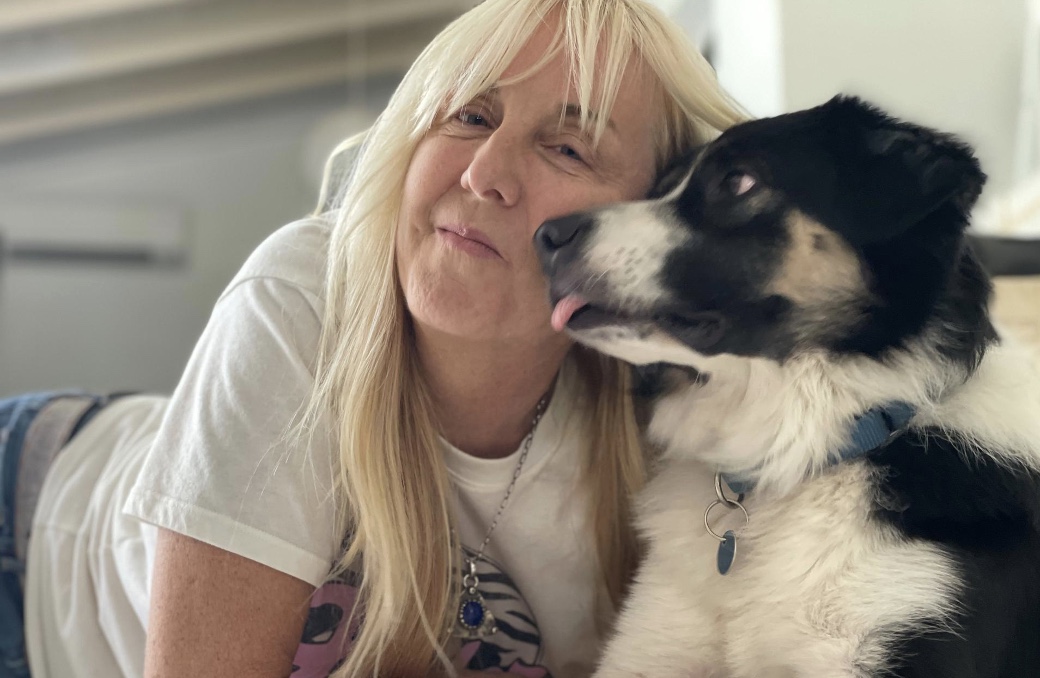 Moonie
As told by new owners Share and Bam
"Moonie was initially rescued from being chained up on a 3-foot chain in someone's yard in Puerto Rico. The Vieques Animal Rescue saved him and through their partnership with the Sato Project were able to get him on a Wings of Rescue flight.  We fell in love with him when we saw him being unloaded off the plane and immediately drove to the shelter to fill out his adoption papers!
When we first adopted him, he would hide and cower whenever we pulled out a guitar. We think it's because he may have been hit by a large object and the guitars reminded him of that. Now he's fully trusting and cuddles up next to us when we play.
Moonie loves his cloth frisbee and goes through one about every 2 months. He also loves to jump on the bed every morning at about 7 am and wakes us up with morning cuddles. If we don't get out of bed quickly enough for him … he jumps off the bed and mischievously skulks around the bedroom and picks up any stray sock or t-shirt and carries them to the living room in a defiant manner to say "HEY, GET UP!"
We didn't think we were ready for a new dog … our old rescue dog had passed away about 7 months prior to us adopting Moonie. Neither of us thought we could handle a new doggie, but we took the plunge when we saw those eyes. After the first weekend with Moonie, we laughed so much and had so many surprise giggles with him, we both suddenly realized it had been months since we had laughed like that! Nothing like the love of a dog to make you smile.
He has brought us so much joy and laughter… we are truly thankful! Thank you, Wings of Rescue! Thank you, Vieques Humane Society, and thank you Moonie for becoming a very happy dog!" – Moonie's mom Share, bass player for all-female hard-rock band Vixen, and Moonie's dad Bam, drummer for Dogs D'Amour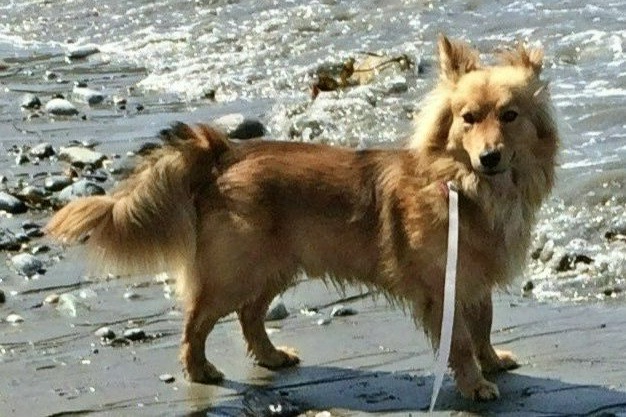 Harri
As told by new owner Ellen:
When my beloved 15-year-old golden retriever died, I felt that as an older woman I could no longer provide the life a golden needs, so when it was time to think of another pup, I went to the Kitsap Humane Society in Silverdale, Washington just to look.
And there he was, a 25-pound Corgi shaped guy with long golden fur, a beauty with a look of gentle intelligence written all over his face. He was hiding and facing the wall at the very back of his cage. He'd been flown from Bakersfield to Boeing Field the day before and was still a bit traumatized by the experience.
A volunteer brought him out to meet me. It was love at first sight. We've been together about 5 years now. I'm 77 now and slower than I used to be. I find myself living with a dog who still loves to play and to explore, but now he's an empathetic soul who slows his pace when he thinks I'm unsteady. Harri stops to look back to check that I've managed the uneven ground or a steep curb, and when I fell one day, he stayed glued to my side until help arrived.
We've evolved from me taking care of Harri to Harri taking care of me. He's a true gift.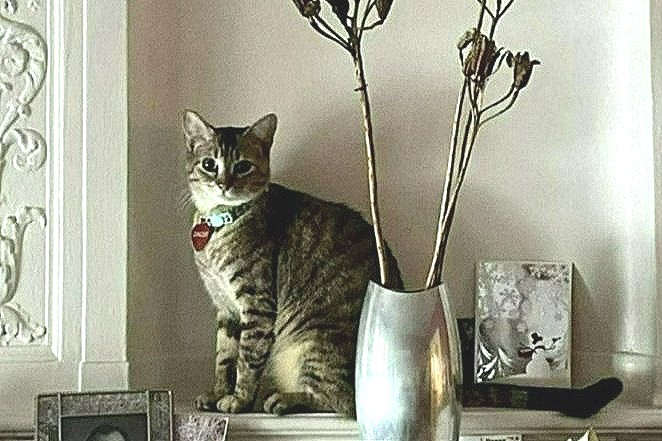 Nuki
As told by new owners John and Dan:
We had talked about adopting a male kitten as a companion for our kitty Sweetie, who lost her brother and best friend,Tigger to cancer a year earlier, but when we saw Nuki, an adult female, there was something special about her. All the other cats were asleep or otherwise ignoring us, but she was awake, alert and watched us no matter where we went. She came right up to us, and tried to rub against our hands through the glass. We could tell she liked people, and wanted attention. We were optimistic that she would get along with Sweetie.
We adopted Nuki in October through the Sussex branch of Brandywine Valley SPCA in Rehoboth Beach, DE. When we brought her home, the introduction to Sweetie went even better than we had hoped. Nuki warmed up to us pretty quickly, too. She follows us around like a puppy. If one of us sits down she has to be right there next to us.
She's turned out to be a good traveler, a big relief as we travel frequently between Rehoboth Beach and Washington, DC. The only tricky part is getting her into a pet carrier! We still miss Tigger, but Nuki has helped take away some of that sadness and we think he'd approve of Sweetie having a new sister.